Service Manuals for Eddystone Receivers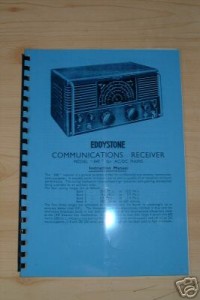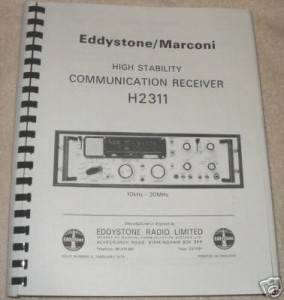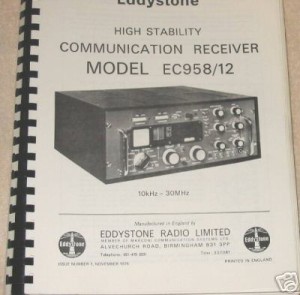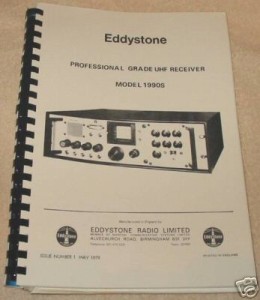 We have revised the manual page to make it easier to find the manual you need to download. We have listed all the Eddystone model numbers we could find and shown which have manuals that can be downloaded, those which are available on request and those for which we would like an electronic copy of the manual. The manuals are available to download free of charge on the basis that they are not reproduced for gain or sold to any other party – we would ask users to respect this. In the far right column we show WANTED which means we would like a copy for our records as we don't have one. BY REQUEST means that we should have the manual in our archive but have yet to electronically scan it but could do so if requested. DOWNLOAD means just that.
The list is in four parts, first the pre-war sets, then the post war numerical sets ie 670, 680X, 990 etc, then we have the EC, EB, EP sets, finally we list the accessories for which manuals are not generally available. We have also included the approximate year the set was introduced.
We are grateful to the many people who have contributed to our manual collection, either by supplying manuals or circuits or tidying up manuals and circuits to make them more readable. So many thanks to Alan G3WXI, Dave, Tor, Gerry VE7GUH, Steve OE3SBN, Graeme G3GGL, Jeff ZL3JK, Ken G3XSJ, Nigel GM8PZR, Amanda M0DZO, Barry G3TPP, Mike, David, Peter, Alan and Ed VE3EMJ.
| | | | |
| --- | --- | --- | --- |
| PRE-WAR | | | |
| Eddystone Three | | 1926 | WANTED |
| Eddystone Twin | | 1926 | WANTED |
| Eddystone Twin | | 1926 | WANTED |
| Eddystone Two | | 1926 | WANTED |
| Regional One | | 1926 | WANTED |
| Atlantic Two | | 1927 | WANTED |
| Scientific Five | | 1927 | WANTED |
| Scientific Four | | 1927 | download |
| Scientific SW Three | | 1927 | download |
| Atlantic Two (export) | | 1928 | WANTED |
| All Wave Four | | 1930 | WANTED |
| Kilodyne Four | kit | 1930 | WANTED |
| Scientific Portable Three | | 1930 | WANTED |
| Homeland Four | kit | 1931 | download |
| Kilodyne 4 | | 1931 | download |
| Scientific Two | kit | 1931 | WANTED |
| Shortwave Converter | | 1931 | WANTED |
| Amateur Bands Two | kit | 1932 | WANTED |
| Atlantic Three | kit | 1932 | WANTED |
| Empire Two | | 1932 | WANTED |
| All World Four | | 1934 | WANTED |
| Kilodyne Four | mains and battery | 1934 | WANTED |
| Sphinx | | 1934 | WANTED |
| Super Six | | 1934 | WANTED |
| Homelander | | 1935 | WANTED |
| Homelander | | 1935 | WANTED |
| Kilodyne Four | mains and battery | 1935 | WANTED |
| Overseas Four | | 1935 | WANTED |
| Quadradyne | | 1935 | WANTED |
| All World Eight | | 1936 | WANTED |
| All World Two | kit or ready built | 1936 | download |
| LPC | | 1936 | WANTED |
| Improved Everyman | kit from SWM No 4 | 1938 | WANTED |
| ECR | | 1939 | see below |
| ECR | Tor Martinson version | 1939 | download |
| ERA 7 | | 1939 | WANTED |
| R101 | Service | 1939 | download |
| Reception Set R101 | Army version of LPC | 1939 | WANTED |
| 358 | | 1940 | WANTED |
| 358X.400 | | 1940 | download |
| 358X.400 | different version | 1940 | download |
| 450B | | 1942 | WANTED |
| R1448 | equivalent S400B | 1943 | Download |
| R408 | equivalent S450B | 1943 | WANTED |
| | | | |
| POST WAR | | | |
| 504 | | 1946 | download |
| 504 | Early Manual courtesy of Tor | 1946 | download |
| 504 | Revised Circuit and other information courtesy of Tor | | download |
| 556 | | 1946 | download |
| 556 | Revised Circuit and other information courtesy of Tor | | download |
| 640 | | 1947 | download |
| 640 circuits | | | download |
| 659 | | 1947 | download |
| 659 circuits | | | download |
| 659/670 | | 1948 | see 670 |
| 670 | | 1948 | download |
| 670A | | 1954 | download |
| 670C | | 1962 | download |
| 670C1 MIMCO 2232B | | 1963 | WANTED |
| 680 | | 1947 | download |
| 680/2a | | 1949 | in with 680X |
| 680X | | 1951 | download |
| 680x | Full size (A3) redrawn circuit | Ex Tor | download |
| 680X | Revised manual and ccts | Ex Tor | download |
| 680X | Redrawn Circuit and table of voltages | | download |
| 680X | NZR74 | 1951 | by request |
| 700 (IMR54.) | Service Manual less ccts | 1952 | download |
| 700 (IMR54.) | Circuit single page(mini) | 1952 | download |
| 700 (IMR54.) | Circuit three pages midi | 1952 | download |
| 700 (IMR54.) | Circuit three pages maxi | 1952 | download |
| 700 (IMR54.) | Factory parts list | 1952 | download |
| 700 (IMR54.) | Alternative Service manual | 1952 | download |
| 710 (AW6} | | 1949 | download |
| 720 (circuit and parts list only) | Yachtsman | 1950 | download |
| 730/10 | Addendum to 730/4 | 1962 | download |
| 730/2 | | 1955 | WANTED |
| 730/3 | | 1956 | WANTED |
| 730/4 | early version | 1953 | download |
| 730/4 ZA51262 Army | no circuits use 730/4 above | 1954 | download |
| 730/4 | File of circuits | 1954 | WANTED |
| 730/6 | Foolscap version | 1959 | download |
| 730/7/8 | Foolscap version | 1959 | WANTED |
| 730/8 | Foolscap version | 1959 | WANTED |
| 730/lA | DWS version | 1954 | download |
| 730/1A | "forged version of manual" | 1954 | download |
| 740 | Circuit diagram with test points | 1950 | |
| 740 | | 1950 | download |
| 740 | | 1950 | download |
| 750 | | 1950 | download |
| 750/1 | | 1955 | download |
| 750/2 | Marconi H100 | 1955 | WANTED |
| 760 | Prototype 770 vhf set | 1954 | WANTED |
| 770M | | 1951 | WANTED |
| 770R | Early version no date | 1953 | download |
| 770R | Foolscap version | 1953 | WANTED |
| 770R Circuit only | Good clear jpg version | | download |
| 770R Mk.II . | Early version no date | 1963 | download |
| 770R/11 | Early Foolscap no date | 1954 | WANTED |
| 770R/8 | Early version no date | 1954 | WANTED |
| 770S | circuit needs improving | 1961 | download |
| 770S circuit only | | | download |
| 770U with muting | Foolscap version | 1955 | download |
| 770U without muting | | 1955 | download |
| 770U Mk.II | May-64 | 1964 | download |
| 770U with muting | Early version no date | 1955 | WANTED |
| 820 | | | download |
| 830 | Test Schedule Apr 67 | 1967 | WANTED |
| 830/1 | | 1964 | download |
| 830/3 | | 1965 | see above |
| 830/4 | | 1965 | download |
| 830/4 Amdt sheet 3 | | 1965 | download |
| 830/5 | | 1970 | download |
| 830/5 circuit | | 1967 | download |
| 830/8 | | 1965 | WANTED |
| 830/9 | | 1965 | download |
| 840 | | 1953 | download |
| 840A | | 1954 | download |
| 840C | | 1961 | download |
| 840C | A3 circuit | 1961 | download |
| 840C | spares list | 1961 | by request |
| 850/2 | | 1961 | download |
| 850/4 | | 1965 | download |
| 870A | | 1956 | download |
| 870 | | 1960 | download |
| 880 | | 1959 | download |
| 880/2 | | 1962 | download |
| 880/3 (see H2301 below) | | 1964 | download |
| 880/4 | | 1966 | see 880/2 |
| 888 | | 1956 | download |
| 888A | | 1957 | download |
| 890/HR20 | | 1956 | download |
| 901 | | 1958 | WANTED |
| 902 edometer | operating manual | 1965 | download |
| 902 Edometer | operating manual in RTF format with Mk2 info | 1965 | download |
| 909 | | 1958 | WANTED |
| 909A & 909A/1, 909A/2 | | 1963 | download |
| 909A/3 | | 1966 | WANTED |
| 910/1 | Mimco HR101 | 1961 | download |
| 920 | | 1956 | WANTED |
| 924 battery converters EC10 EB35 etc | circuit | 1964 | download |
| 925/H5011 | FSK Adaptor | 1976 | WANTED |
| 930 | | 1958 | download |
| 930 | | 1958 | WANTED |
| 939 | | n/k | WANTED |
| 940 | | 1962 | download |
| 940 | Revised Circuit and other information courtesy of Tor | | download |
| 945 | 12-24v PSU | n/k | download |
| 950 | | 1974 | download |
| 960 | | 1962 | download |
| 961 | | 1972 | WANTED |
| 990R | | 1971 | download |
| 990R/2 | | 1969 | WANTED |
| 990S | | 1966 | download |
| 990S | | 1967 | WANTED |
| 990S | | 1971 | WANTED |
| 990T | | 1970 | WANTED |
| 1000 | | 1971 | download |
| 1001 | | 1972 | see 1000 |
| 1002 | A5 | 1972 | download |
| 1004 | A5 | 1972 | download |
| 1061A | | 1975 | download |
| 1061A mk2 | | 1975 | WANTED |
| 1061B | | 1975 | download |
| 1061B | Parametron Maintenance | 1975 | WANTED |
| 1061B/1535/1990R | Interface Data | 1975 | WANTED |
| 1529 FSK Demodulator | Service | 1983 | WANTED |
| 1535 Display Unit | Service | n/k | download |
| 1540 Audio Amp | Service | n/k | Accessory |
| 1552 Noise Measuring Unit | Circuit | 1978 | WANTED |
| 1560 Marlin TX/RX | Operating and Instruction | 1980 | download |
| 1561/62 Monitoring Systems | Service | 1978 | by request |
| 1570 | Operators Manual | 1980 | download |
| 1570/1 | Circuit Diagram | 1980 | download |
| 1590 | Service | 1980 | download |
| 1629 FSK Modulator | | 1983 | WANTED |
| 1645 Timer Recorder | Service | 1983 | WANTED |
| 1650 RCU | Remote Control | 1985 | WANTED |
| 1650 series | Service | 1984 | WANTED |
| 1650/3 | French | 1984 | WANTED |
| 1650/6 Special no front panel controls | Full Manual | 1988 | download |
| 1650/7 Coast Station special | Service | 1986 | download |
| 1650/8 | Service | 1988 | wanted |
| 1650/9 | Full manual (less Sect 4&5) | 1990 | download |
| 1650/9 | Sections 4 & 5 (Descr & Maintenance) | 1990 | download |
| 1680/2 | Service Manual | 1982 | download |
| 1680/3T | Service Manual | 1982 | Download |
| 1685 RCU | Service Manual | 1982 | Download |
| 1750 RIA | Service | n/k | by request |
| 1755 Relay Switch Unit | Service | 1987 | by request |
| 1760 RIA | Service | 1984 | by request |
| 1761 RIA | Service | 1985 | by request |
| 1763 RIA | Service | 1985 | by request |
| 1763 RIA for 1650 | Service | 1985 | by request |
| 1764 Barrier | Service | n/k | by request |
| 1766 /3 RIA | Service | 1986 | by request |
| 1766 RIA | Service | 1984 | by request |
| 1771 Multi address | Service | n/k | by request |
| 1772A | Operating Manual | 1986 | by request |
| 1775/1 RCU | Service | 1986 | by request |
| 1778 V22 Modem | Service | n/k | by request |
| 1798 Orion ATU | Service | 1984 | by request |
| 1802 CW Modulator | Service | 1984 | by request |
| 1805 Orion Telephone Coupler | Service | 1984 | by request |
| 1806/2 | | n/k | WANTED |
| 1807 Orion FTBattery | Service | 1984 | Accessory |
| 1830 | | 1971 | download |
| 1830 Appendices "E", "F" & "G" | Circuits and boards | 1971 | download |
| 1830/11 | Service Manual Sept 73 | 1973 | WANTED |
| 1830/1N | Service Manual Sept 73 | 1973 | WANTED |
| 1830/6 | Service Manual Nov 72 | 1972 | WANTED |
| 1837/1 &2 | | 1977 | download |
| 1837/1 &2 Missing Pages from above | Sect: 4.12.5 onwards | 1977 | download |
| 1837/2F Supplement | BFO Offset Module | 1981 | download |
| 1837/2B Supplement | Correction PCB; Counter Module; Power Supply Unit | 1982 | download |
| 1837/2 | Service Manual Oct 79 | 1979 | WANTED |
| 1837/3 | Service Manual July 77 | 1977 | WANTED |
| 1838 | Service Manual Jul 77 | 1976 | download |
| 1964 | Service Manual Apr 80 | 1981 | download |
| 1964 RCU | Operating | 1980 | by request |
| 1990R | | 1975 | download |
| 1990R Synchroniser | | 1975 | download |
| 1990R/4 | Operators Manual | 1976 | by request |
| 1990R1AX | Mar-76 | 1976 | by request |
| 1990R2 | | 1975 | WANTED |
| 1990R3b | Iss 2 March 76 | 1976 | by request |
| 1990S | May-79 | 1979 | download |
| 1990S Synchroniser | May-79 | 1979 | 1990s Synchronizer manual |
| 1995 | Operators Manual | 1984 | download |
| 5000 Orion Transceiver | Service | 1984 | download |
| 5500 Orion Transceiver | Operating Manual | 1984 | download |
| 6100 | Operating Manual | 1994 | download |
| 6200 | | 1994 | download |
| 7000 Orion Transceiver | Installation and Operating | 1996 | by request |
| | | | |
| ALPHA NUMERICAL SETS | | | |
| EA12 | | 1964 | WANTED |
| EA12 | | 1966 | download |
| EB35 | Instruction Manual June 1968 | 1968 | download |
| EB35 | Test and inspection schedule July 66 | 1965 | download |
| EB35 | Instruction Manual Aug 70 | 1970 | download |
| EB35 Mk,II | | 1976 | EB35 Mk II & Mk IIS Manual |
| EB35 Mk.III | Instruction Manual July 76 | 1976 | download |
| EB36 | Instruction Manual Oct 66 | 1966 | download |
| EB36A | | 1966 | download |
| EB37 | Instruction Manual Sept 72 | 1972 | download |
| EB37 & EB35MK II | Test and inspection schedule Jan 76 | 1970 | download |
| EC 10 | | 1964 | download |
| EC 10 | | 1968 | download |
| EC10 | | 1970 | download |
| EC10 manual and EC10 Mk.II | Supplement Nov 71 | 1971 | download |
| EC10 Mk2 supplement | | n/k | download |
| EC10A | | 1965 | by request |
| EC10A2/ | | 1967 | download |
| EC10A2/ 1RM | | 1967 | WANTED |
| EC10M Seaguide | | 1965 | download |
| EC1680 | Service Manual Jul83 | 1983 | by request |
| EC958/1 | | 1971 | download |
| EC958/1 | | 1972 | WANTED |
| EC958/12 | | 1974 | WANTED |
| EC958/12 | french | 1974 | WANTED |
| EC958/2 | | 1969 | WANTED |
| EC958/3 CAN | | 1972 | download |
| EC958/5 | | 1972 | WANTED |
| EC958/5 Nebula | | 1971 | download |
| EC958/7 | | 1974 | download |
| EC958/7E | | 1974 | WANTED |
| EC964 series | | 1970 | download |
| EC964 series | | 1970 | WANTED |
| EC964 series | | 1971 | WANTED |
| EC964 series | | 1971 | WANTED |
| EC964/2 | | 1972 | WANTED |
| EC964/7 | | 1975 | download |
| EC964/7A | | 1980 | WANTED |
| EC964/7G | | 1980 | WANTED |
| EC974/2 RCU | | 1972 | by request |
| EM34 (Mimco3873A) | Circuits | 1965 | WANTED |
| EP14 | | 1965 | download |
| EP15 | | 1965 | download |
| EP17R | | 1966 | download |
| EP20 | | 1966 | download |
| EP961 | | 1970 | download |
| EP961 a b c | | 1970 | WANTED |
| EP961 mk 2 | | 1970 | WANTED |
| EPR1538 | Operating pamphlet | 1963 | WANTED |
| EPR26 | S770U/S906/S939/EP17R | 1963 | WANTED |
| EPR27 | S830/S906/EP20 | 1963 | WANTED |
| EPR32 | | n/k | by request |
| ET8800 | | n/k | by request |
| EY11 | | 1968 | WANTED |
| H2301 (880/3) | Service Manual | 1964 | download |
| H2301 | Test Instructions | 1965 | WANTED |
| H2301 (880) | Test Procedure | 1965 | WANTED |
| H2311 | Marconi 958 | 1970 | WANTED |
| LP3382 Active Aerial | | 1975 | Accessory |
| Marconi HR100 | | 1955 | WANTED |
| Mimco2232B (670C/1) | | 1963 | WANTED |
| No31A | | 1971 | download |
| No40A | | 1975 | download |
| | | | |
| ACCESSORIES | | | |
| 652 Loudspeaker | | 1949 | Accessory |
| 669 Signal Strength Meter | | 1946 | Accessory |
| 678 Modulation Meter | | 1949 | download |
| 687 Vibrator Power Unit | | 1949 | Accessory |
| 688 Speaker | | 1954 | Accessory |
| 689 bug key | | 1949 | download |
| 689 Eddystone Bug Key | | 1949 | Accessory |
| 690 Crystal calibrator | | 1949 | Accessory |
| 6900 Ext Standard Adaptor | | n/k | Accessory |
| 696 Absorption Wavemeter | | 1952 | Accessory |
| 732 Mains Filter | | 1954 | Eddystone filter 1 (1) |
| 899 Speaker | | 1964 | Accessory |
| 906 Plinth Speaker | | 1980 | Accessory |
| 935 Loudspeaker unit | | 1965 | Accessory |
| 989 Plinth Speaker | | 1980 | Accessory |