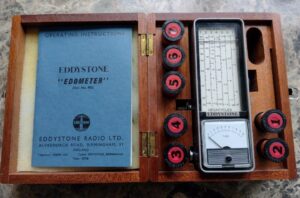 Phil G4OBK in Pickering, North Yorkshire is helping the family of Malcolm G3KEV of Scarborough who went Silent Key last month at the age of 87 dispose of his amateur radio equipment gear. The money raised is going to the Yorkshire Air Ambulance Service and Phil is on his way to raising at least £2000 from the sale of Malcolm's gear for the charity.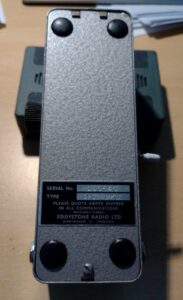 Phil is offering an Edometer S902 Mk2 in excellent condition, complete with carry box, the seven coils and the original manual (see pic – more photos are available from Phil). Phil has checked to see that the PP3 battery had previously been removed and that there was no contamination inside the unit.
He fitted a new PP3 and checked that the unit does function as a signal generator. He also checked that the fixed 1000 Hz audio tone output was available on the right-hand side headphone socket but he hasn't tested the other unit functions.
Bearing in mind that the proceeds are going to charity, Phil is inviting bids for this item and has put a deadline of Saturday November 4th for anyone wishing to make an offer for this historic Eddystone Item, without which no Eddystone collection would be complete. If you are interested in making an offer or wish for more details contact Phil by e mail on cq@yorkshirewalker.co.uk UK delivery only unfortunately. Shipping can be arranged via Royal Mail 48 tracked for £7 but collection from Pickering is also acceptable.