People and Personalities from Eddystone Radio
A company that started in the dawn of broadcast radio in the 1920's and survived until the early part of the next century will be full of personalities. In these pages we hope to give you a more personal flavour of what life was like working for the company by relating accounts as told by the people concerned.

Apart from GSL (below) his son Jerome played a large part in the development of the radio business from early thirties to 1965.
In the early days two radio enthusiasts joined the company.
Harold Cox the technical expert and Arthur Edwards G6KJ the commercial expert. These guys will influence the company for the next 40 years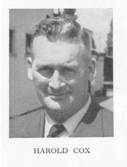 Harold Cox joined Stratton's in the twenties as a young man and he was almost certainly their first "brought in" radio man. He rose to become General Manager and he designed the first "tropicalised" radio in the form of the diecast aluminium All World Four of 1930. It was completely bug and rot-proof. In spite of employing a team of licensed hams he had very little time for amateurs and always said their was no money in it. Harold left the company after Marconi bought it in 1965. He lived to a good old age and only died relatively recently. Old hands remember a cigarette permanently hanging from his lips and dribbling ash in to the radio gear. He was much feared!

Arthur Edwards G6XJ also joined the company in the twenties and was the Sales Manager. He was away during the war where he rose to the rank of Commander in the Fleet Air Arm working on top secret radar. He was a life long bachelor and had a shack at his parents house in Solihull. All Eddystone equipment of course. He was keen on sailing and instigated the  Yachtsman in the 1950's.
Someone else who was to have a great influence on the company from 1935 until 1985  was Bill Cooke GW0ION. Bill was chief engineer from 1947 until 1976 and then Managing Director until 1984 and Chairman from 1984 to 1985.

Bill Cooke was a schoolboy radio fan and joined Stratton's as an apprentice in 1935. He must have been a winner because he was picked to construct the first model ERA 7 in 1938; the company's 'flagship'. In Sept 1939 he was called up to the RAF where he worked on the new generation of 'Air Ministry Experimental Stations' (AMES) which was the code name for RDF or radar stations. After square-bashing he was posted to RAF Rame Head where the radar gave an excellent permanent echo from the Eddystone Lighthouse at 11.5 miles and 198.5 degrees. In 1941 he sailed for Egypt, travelling across North Africa with the Desert Air Force and the 8th Army, arriving back in England just in time for VE-Day.

Back at Eddystone at the end of 1945 his first job was developing a 50MHz welding machine for babies' plastic pants! Three machines were shipped to the Australian subsidiary of Jarrett and Laughtons and gave many years service. In 1947, just after his 28th birthday he was promoted chief engineer. He had worked with Marconi's since the early fifties so when the take-over came in 1965 he wasn't upset. When Dick Carroll (an ex-Marconi man and by then Managing Director) moved on in 1976 Bill succeeded him as MD until his retirement in 1984. It wasn't until after his retirement that he finally got round to taking out his ticket, GW0ION. He celebrates his 87th birthday this year and is in touch with most of the world!!
Read the story of Bill Cooke's fascinating life at Eddystone Radio in the Cooke Report (2.2Mb)