Eddystone Radio Collections
This page is where you will find details of some Eddystone collections. Those with web sites of their own collections or who have photos of their collection which they would like to put on this web site should contact Chris G0EYO below.
Eddystone Museums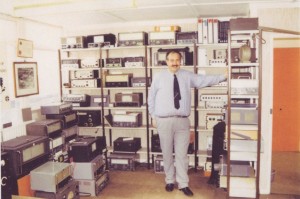 When I was Managing Director of Eddystone Radio from 1984 I was keen that we should be proud of our history. We had a number of old models on display in our foyer at the Bath Tub at West Heath but we need this room for something else. I found another, larger room and had it kitted out with shelving and display cupboards and the intention was that this is somewhere we could take customers and shown them our history and our present. In addition to the sets that had previously on display I found a large number of sets and prototype sets stored in the Development Block. These were all dragged out and cleaned up and displayed in the museum. We never really had enough time to catalogue and properly label the old sets or to sort out the many archives that we had but it was a very popular venue with our more mature customers.
We were helped in the early years by Howard Turner of Centre Electronics who had a nice collection of Eddystone receivers that he loaned us to display in the museum. Alan Ainslie also offered to sort and index our archives in the early 1990's. The museum was transferred to our Selly Oak premises when we moved in the early 1990's and a small room was found for it there. Fortunately Graeme G3GGL was able to take some pictures and made up a nice collage for the Eddystone User Group.
Chris Pettitt G0EYO
Other Collections
Ken Brooks G3XSJ 640 with B2 spy set and key for 80m CW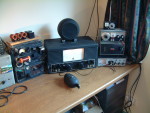 Gerry O'Hara's S750 in its plastic case (click on pic to enlarge)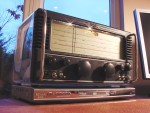 Richard Baker's Collection (now disbanded) Richard is on the left and John Wilson (of Lowe Electronics) is on the right. Taken around 1990 but cant be sure (click on pic to enlarge)
HMS Collingwood, Portsmouth, Museum of Communications and Radar, collection of Eddystone sets
This EB37 had been sailing the seven seas for at least two decades, being part of the furnishings of the Captain's cabin aboard the M/T Cielo di Roma. After the ship was decommissioned, the set was given to Raffaello Bisso of Genoa, Italy as a graduation present. He restored it and got it working and uses it as his BC receiver. He is in need of some side grids to replace those that are missing (click on pic to enlarge).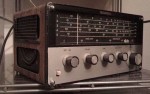 Richard Hall, GM0OGN, long time EUG collector, seems to be suffering from a bug attack in this picture he sent in (click on pic to enlarge)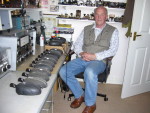 Display of Eddystone Receivers courtesy of Alan and June Ainslie at National Vintage Communications Fair 2009(Download File)
Pictures of Joe's (9H1GT) collection of Eddystone Receivers in Malta Pt 1 and Pt2 (9h1gt pt 1 collection) and 9h1gt pt2 collection
Eddystone Receivers in the Musick Memorial Radio Station in New Zealand .The EC1680/2 and the EC1837/1FS are at the 600M operating desk. NZ hams have an allocation 505 – 515kHz. The EC1837 is the unit repaired with EUG assistance. The EC1680/2 is one of the stations original 500kHz receivers. We have a number of these. The EC1685/2 remote contol units are units in storage, these were also used at Musick Point.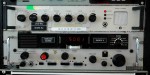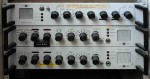 The Ben Nock G4BXD collection of Eddystone Receivers is now shown in excellent detail on this site http://www.qsl.net/g4bxd/eddystone.htm and is an invaluable source of information on these wonderful sets NEW