QRG – The Ultimate Quick Reference Guide
YOU CAN DOWNLOAD THE FOLLOWING FILES ADOBE PDF FILES: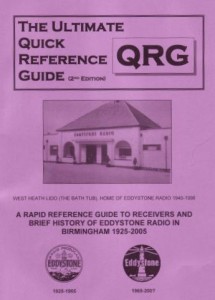 A Brief History(0.9Mb)
Pre War Sets(2.7Mb)
Wartime Models (200kb)
Post War Sets(8.7Mb)
The first Edition of the Quick Reference Guide was produced in 1998 and covered receivers manufactured by the Eddystone Company frm 1946 to c 1969 (the "Golden Years"). It was intended to help members of the Eddystone User Group identify their areas of interest and further their knowledge of the marque.
In this is succeeded, being well received and creating a demand for a revised and more detailed Edition. This was done in 2000, covering most sets from 1946 to 1982. This is now out of print and the opportunity is being taken to fulfil members' wishes and produce an edition which attempts to cover Eddystone receivers from the very earliest days of the 'twenties until the present time and give an picture of each. It was further updated in 2002 and these files are shown above. A final update was done by Graeme G3GGL in 2005 and this can also be downloaded as one very large file (9Mb)
 ULTIMATE QRG 2005 edition(9Mb)
At the same time a short history is presented, especially for new members. Muc h of the information contained herein has been covered in greater detail over the past twelve years by the Lighthouse magazine and its predecessor the EUG newsletter. Something approaching 3000 A4 pages have been produced over this period.
Graeme Wormald 2002