Eddystones in Famous Places
Eddystone Receivers were used in some famous places and this is the page where you will find pictures to prove it. We shall add to this page as we find new and interesting pictures.
Click on the URL to download the picture
NASA and the 770U. This picture shows the 770U in use at the General Electric Missile and Space Division factory on the Stabilization and Control System for the NASA Orbiting Astronomical Observatory (Download pdf 400kb)
BBC film of BBC Caversham/ Croseley Park monitoring station c 1985. Lots of different receivers but it seems some Eddystones were used at the individual monitors. Download this URL
also remember the Dr No film with the transmitter receiver in the British Embassy, someone has captured a couple of stills from the film Download
Thanks to Gerry O'Hara and his friend Lorne Bohn for finding these.
Gerry O'Hara also sent me this still from an episode of "The Crown" which shows a shot aboard the Royal Yacht Britannia. Gerry is not sure of the model number. This is not a radio room shot – that was full of Murphy B40s and B62s. (download picture)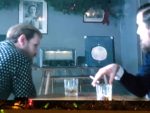 Anglesey Radio Coastal Station showing EC958 as the main Rx and an EC10A2 with xtal monitor on 2182 kc/s. (from David Oakden). click on pic to enlarge
CORRECTION
Been advised by John Parry GW3VCC that this is NOT Anglesey Radio Coastal Station, does anyone know where it is a picture of, Chris G0EYO EUG Webmaster
Update: John G4ETQ has provided evidence that this view is of Ilfracombe GIL. Thanks John
Niton Radio Station GNI
John G4ETQ supplied this picture from the BT magazine showing Radio Room at Niton on the Isle of Wight showing the EC958s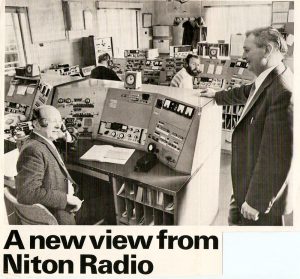 Radio Room at Deception Base in Antarctica
This is the Radio Room at Deception Base in Antarctica in 1962. David Bridgen G3VCX was a radio technician down there. Notice the Eddystone receiver with the T1154 transmitter and ET4336 transmitter (click on pic to enlarge)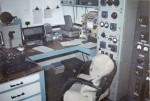 Fossil Bluff Antarctic station
John G4ETQ also found this picture in one of his Antarctic books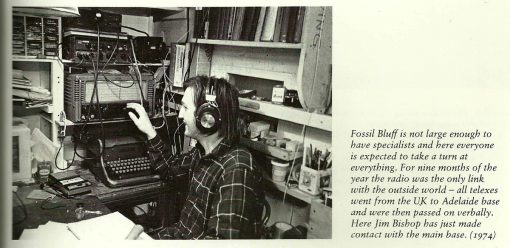 Falkland Islands
This is a picture of a colleague of David's sending morse with his foot in the Falkland Islands in 1960's. Eddystone is just visible on the right (click on pic to enlarge)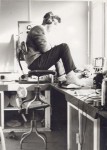 David Bridgen sent us some more photographs of his time in the Falklands call sign ZH88 in the 1960's
(click on pics to enlarge)
David made this key. The base is one and a half by one inch. He connected it and keyed ZHF88 with it to work one of the bases.
Photo of 'Operating Positions 2 and 3. Looking the other way along the operating room. The chicken run of Government House is outside the windows on the left. there is another Creed Perforator on the table in the background.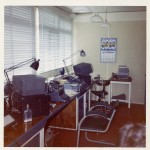 This is Bill Evan at the next operating position. You will see the main receiver is a BRT400. The paper in his typewriter is a special size on which we took 5 figure met groups. These would then be put on the DeskFax machine to Bill's right and sent to the Met office on the hill of Stanley. In thebackground on the left there is a Creed tape perforator sitting on a table. To its left you can see, hanging on the board, a black reel which holds a prepared tape waiting transmission.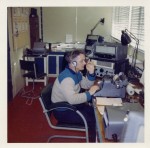 This is one of David sending traffic to one of the bass using my Vibroplex. It looks as if it is an Air letter. The base personnel could receive one Air letter per month. They would be address to then c/o the Stanley office and we would open them and transmit them to the relevant base. You will notice that the typewriter is fitted with a teleprinter roll. We would take most traffic down on them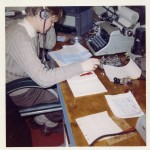 Derek G3NKS
This photo shows Derek G3NKS in his shack in 1962, when he was in his late teens, with his Dad, Denis G3NKT (who died in 1966). The shack was in his bedroom at the family home in Redhill, Surrey. Above the S640 is a homebrew transmitter for 160, 80 and 40m. In the rack on the right is a transmitter built by G3JDN with an 807 PA covering 80 to 10m. Above is his home-brew power unit. His Dad had his own shack, with a TCS12 TX/RX combination, in the dining room downstairs but they shared the same "long-wire" antenna with the change-over switch in Derek's bedroom! (click on pic to enlarge)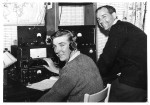 Canadian Electron Magazine
Article from Canadian Electron Magazine April 1966 showing Department of Transports Monitoring Vehicle using Eddystone Receivers (download – 3Mb)
Radio Security Service (RSS)
WW2 secret listening station revealed: David Searle ZL3DWS came across an article in the Milton Keynes ARS newsletter written by David White G3ZPA concerning a secret Radio Security Service station run from a bungalow in Colwyn Bay North Wales. The son of Edmund Vale who was the RSS regional officer for Wales spoke to David G3ZPA about it recently and provided some photographs. The interceptors were volunteers although they were exempt from national service. The photographs show the equipment in the bungalow with the radios being seen quite clearly: left to right there is an Eddystone 358, and HRO senior, Two Hallicrafter S20 Sky Champions. The other photograph shows the bungalow and its aerials and the third is believed to be some of the staff at the station. There were a total of 9 regional RSS officers around the country and the network they ran was believed to be looking for radio transmission from German agents based in Britain. Thanks to David G3ZPA for permission to reproduce these.
(to enlarge the photographs just click on them)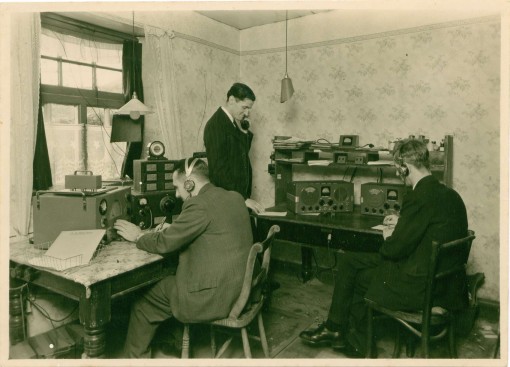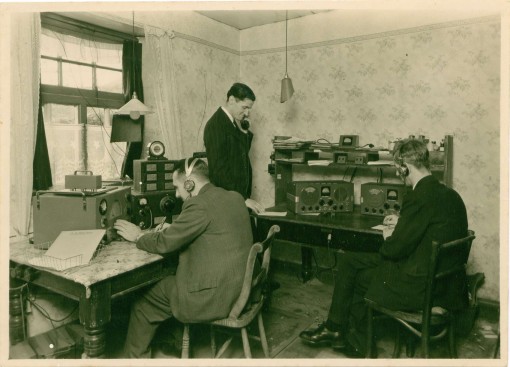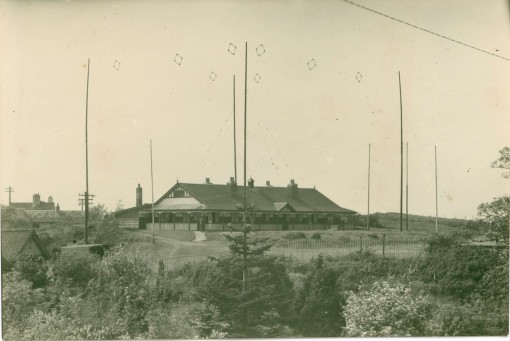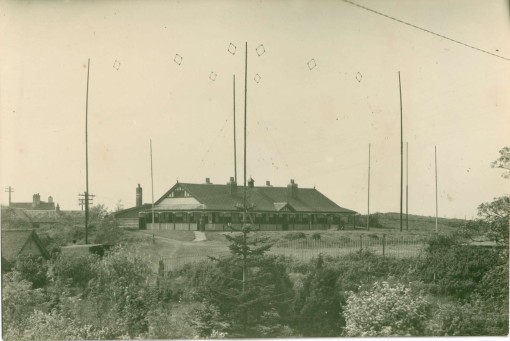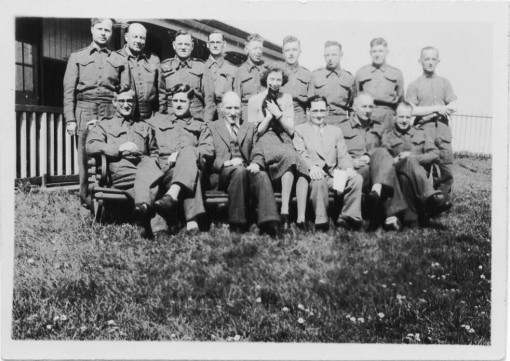 BBC Tatsfield
Eddystone Receivers at BBC Receiving Station Tatsfield. This picture shows part of the receiving station the BBC ran at Tatsfield and shows a couple of VHF and UHF Receivers 770R and 770U in a rack along with others. Tatsfield was monitoring everything from MF to UHF and carried out noise measuring and field strength measurements. There is an interesting BBC paper on Tatsfield Download BBC Paper