You may recall a recent news item regarding whether there really was an Eddystone Television. This had been triggered by an E bay auction of a dealers sign which indicated that they sold Eddystone Shortwave and Television apparatus. The sign, with a starting price of £200 failed to get any offers on E bay.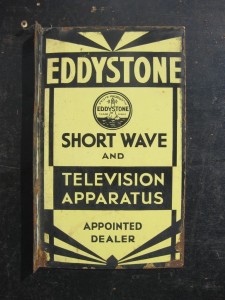 Last week I noticed that the same sign had been put in a Chippenham Auction Rooms auction of Toys, Enamel signs and Packaging which was held on Friday 27th November. The estimate in the catalogue was £300 to £400 but again it failed to meet its reserve and was passed over. I wonder where it will turn up next.
The correspondence about Eddystone TV's prompted Eddystone guru Gerry O'Hara  VE7GUH to remind us about a the spoof Article on Eddystone TV he prepared for April Fool's Day a few years back –
Still not sure if Eddystone ever made and sold TV sets by the way!.