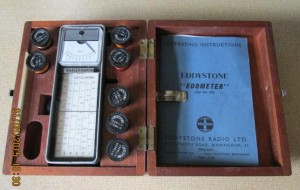 This  Eddystone "Edometer" S902  Mk 2 in a wooden box complete with operating instructions booklet  sold for £68 recently on E bay.
The Edometer was versatile transistorised instrument which functioned as a dip oscillator, signal generator, absorption wave-meter, AF tone generator and AM modulation monitor. It came with seven plug-in miniature coils and covered the frequency range 390 kc/s to 115 Mc/s. Powered by 9v. PP3 battery. This example looks complete will all seven coils and space for the spare battery.
The  S.902 Mk I came out in 1965 and was supplied in cardboard box and is usually minus its coils and is very rare. The S.902 Mk II was supplied in beautiful mahogany case, as well with improved circuitry (NPN transistors).The price in 1969 was £27 10s. Still quite rare.
I think someone got a real bargain with this purchase, as in recent years they have sold for as high as £250 when in good condition. The EUG were donated one by Barry ZS2H for club funds but it has not been offered for sale yet. I will wait until prices go back up again.