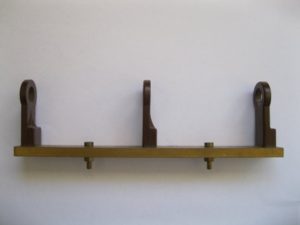 Ken in New Zealand sent me this picture of an Eddystone part that belonged to his father who also had a much used 680. Ken enquired whether it was part of the 680 or some other set. It looks to me like the shaft insulator brackets that were sold individually as components from the mid 20's until post war. However, none of the component catalogues in the archive show one with three shaft brackets mounted on a brass base plate. So the question is, what set was this used on or was it a long forgotten Eddystone component?. It is about 180mm long and has the name Eddystone stamped on it. If you can identify it let me know and I will pass on the information to Ken. Chris g0eyo@blueyonder.co.uk .
Mystery solved. I got this reply from Tor Marthinsen in Norway. "
I'm sorry to say that I'm not so busy with my Eddystone receivers as before, maybe I'm slowing down because of age? However when I saw the 'mysterious' Eddystone part you were interested in, I immediately knew where I could have used such a part – in the 'Amateur Communication Receiver' as described in the 'Eddystone Short Wave Manual No.4'. You must look into the second edition, in the 'List of Parts' for this receiver you will find the 'Condenser Cradle No. 1114'. You will also find it in the 'Components catalogue' from 1939″.